TEAM
BUILDING IN
BARCELONA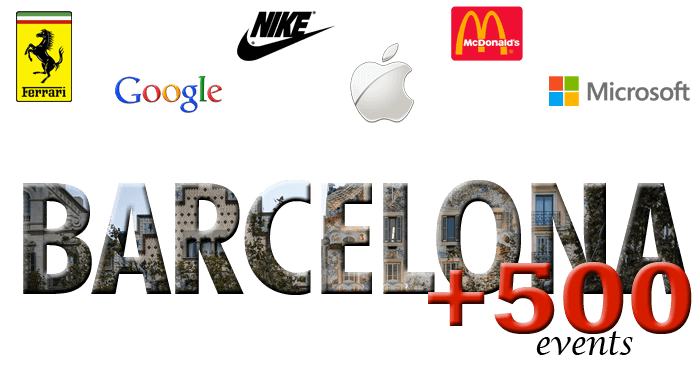 Team Building in Barcelona, ​​ideal for your events. Dreams & Adventures we have made many team building events in Barcelona, ​​and we are proud of them all.
You want to know some things you need to know before organizing a Team Building in Barcelona?
Team Building events that have been organizing for years in Barcelona, ​​are aimed at uniting workers of a company and make them feel like a real team. Barcelona was the first city where we started to organize events Team Building. Barcelona has always welcomed us with open arms.
Barcelona is the capital of Catalonia and one of the most important cities. The city alone, more than five and a half million.
In 1992 the Olympic Games were held and the city was renovated from top to bottom: both its infrastructure as shops, public transport was improved, began to offer new services, which Barcelona won a projection internationally modernized to it has led her to become one of the most important tourist destinations in the world. And not only tourism, but also for the MICE (the market for professional meetings and business) market.
In Barcelona and the surrounding nature and a dream city come together to perform activities of Team Building.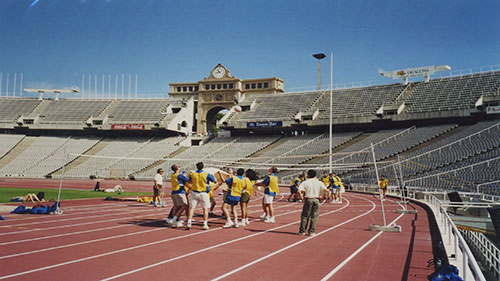 The city went from being essentially industrialist to be the center of culture and art of Catalonia and the first across the country. Today, Barcelona is one of the cities with more weight in the West, and also one of the most special. Thanks to all these developments, Barcelona as a venue for events, conferences and team building activities, enjoys great international prestige.
There are many reasons to choose Barcelona for our Team Building activities, such as may be its versatility. Our customers have the opportunity to choose any activity of their choice from among our more than 200 challenges for the city because Barcelona has all the necessary factors for Team Building activity, is a success. For example, the Barcelona coast are magnificent events for our beach and the natural park of Garraf or Montseny are two environments country of great beauty. When we refer to the beaches for Team Building in Barcelona, ​​we also consider the beaches of neighboring cities like Badalona, ​​El Prat, Gava and Castelldefels. In Badalona in Badalona Marina harbor is where we moored our sailboat, Kontrakorriente name Hanse 479 is a magnificent sailing ship with which teams to work as a team in the different tasks necessary for navigation are welcome …
For events and treasure hunts in the city center, Barcelona is the perfect city because there are dozens of unique and special places to visit, such as the Gothic Quarter and the Born, where every street, every building and every corner has its own history and so the gincanas in Barcelona become a unique experience. Las Ramblas, the Columbus statue and Port Vell, Plaza Catalunya, Palau de la Musica, Boqueria market, Plaza Real, Plaza de Sant Jaume,
The whole city is bathed by the modernist; an artistic style found only in Catalonia, based on the forms of nature, but especially in the floral figures and dragons, which make all those who celebrate an event Team Building in Barcelona, ​​remember it as a magical city and full of life.
The most prominent architects who built the city were modernist dream of Antoni Gaudí, which is the most representative and renowned modernist architect, with the Sagrada Familia, Parc Guell, La Pedrera, etc., Domènech i Montaner, with buildings Hospital Sant Pau, Palau de la Música Catalana, among other buildings i Puig, with works like the Amatller house, the building of the cellars of Codorniu.
The advantages that provides the city of Barcelona, ​​are countless, and each of them are ideal for Team Building in Barcelona.
But let's get to the point. You are here because you want to organize a Team Building in Barcelona and our job is to help you.
Are you ready / a to organize a Team Building in Barcelona? Yes we want to organize an activity or experience of Team Building in Barcelona whether it is in the city of Barcelona and in the province or nearby, first of all, we ask a number of questions in order to be able to choose the best activity and the best place carry it out. Because to choose a Team Building in Barcelona, ​​besides deciding to work with us, then you must decide which team building activity you are going to do and where we will carry out. Well, let's get started.
Okay, you've found us the trusted provider with more than 20 years of experience to organize a great motivational event for your team. Well, the first question we usually do to customers who come into contact with us and we want to do to you, is where you want to organize your Team Building in Barcelona and, from there, if we confirm a particular place, We will offer activities adapted for this site. Where do you want to do your Team Building know? But often, the place is not decisive for the organizing company and in this case we recommend to decide before what activity you like the many we can offer and, then, once we know your desired activity, we help you find between our extensive database spaces (over 100 places in the province of Barcelona) best suited for team building activity that you have selected.
Therefore, the first question to ask is whether we will give priority to space or, conversely, if space is not critical and are open to all possible spaces, if we are to give priority to the activity. You decide where to go.
Should priority or priority space activity? Once we know the answer to this question it is when is our turn to help. And to help you need to better understand your needs. We speak?
One of the first questions to ask is the time of year for your event: what date we organize this activity Team Building in Barcelona? In winter to avoid the cold, the tendency is to organize indoor activities (activities indoor), although we warn participants with some time and are all well equipped, can also organize outdoor activities, both gincanas by city as in one of the many farms around there as in mount. At the end of the day, the weather in Barcelona is very mild and winters are not as cold. In spring, summer and autumn, whenever we can, and have time to travel, we will go to any farm, garden or open space. It is always nice to get out of the office and outdoor activities, so, whenever we can better go outdoors to not stay in a hotel room or the same company. In espaciosparaeventos.es have over 100 different spaces to make a Team Building in Barcelona and its surroundings.
The Open Sports Club de Castelldefels, Gava beaches, the Tropical Gava, Montjuic Olympic Stadium are some excellent sites that have what it takes for an event of Team Building. But we have many more. Sign up in espaciosparaeventos.es and looking. Or if you want a more personal approach, please contact us, tell us and we will offer the best sites. We 20 years searching and finding sites and can save a lot of time because the work that you do in your search for a space we already have done many times.
The next question we have to ask before organizing activity Builidng Team in Barcelona is How many people want to organize the activity? Of course, to know the exact number is impossible now, because in addition to last minute always can fail people, that's normal and usual, always, or rather, it is almost always the case, but it is important to be clear about for how many people will be Team Building activity we want to do in Barcelona. For small groups of less than 30 people there is a type of activities to medium groups of 30-200 people there are others that are more suitable, and for large groups, more than 200 people there other activities. There are also Team Building activities that are more suitable for large groups and groups of more than 500 people. On our website you have more than 400 ideas.
Another question: Where are the participants and how long have? This is also important to know. where are going to be these people before going to the place of activity? Not the same having to think about an activity for people who are gathered in a hotel in the center of Barcelona, ​​for employees of a company that everyone will find in the morning in the same company or for people who go on their own cars and from his home to the place chosen for the event. The place from which to depart condition the logistics and commuting times. And this is important to know where they come from because this information will be crucial to choose the place. The more things you tell us, the more we can help you.
A very important question we always ask the caller us interested in organizing a team building activity in Barcelona is what is the relationship of the organizer with the participants. And often, we realize that our partners not just understand why this question. And the way to make it clear what we mean is explaining what it is to know the relationship between the company that pays the bill and who will participate in the activity, ie, if the invoice pay a company what are these people in relation to that company ?. This question is fundamental for us to do our job well. And it is important because the type of team building activity we can do in Barcelona and the place to carry out this Team Building, used to be different in terms of this relationship. It has nothing to do have a group of Swedish commercial for a brand of engineering and robotics (relation of employer and employee), with a group of distributors of a brand of motorcycles (relationship supplier and distributor), or a group of cardiologists guests with their wives for a pharmaceutical firm (possible prescriber and company). Each requires a different treatment, with different activities and, sometimes, in different spaces.
Where do the invited participants? they are Spanish? Are Barcelona? ¿Of the rest of Spain? Are they foreigners? And if they are foreigners, where they are exactly? It has nothing to do with the events that can be organized for people who are in Barcelona, ​​with those recommended organizing, for people who have come to Barcelona but the rest of Spain, throughout Europe, northern Europeans or Americans. We have organized activities for them on many occasions and we know the tastes and needs according to the geographical area of ​​their origin. One example is a group of foreigners came from all over the world who are three days in a hotel and that during the three days are almost all the time gathered at his hotel. What recommend ?, as an activity for the city center, the Gothic Quarter and the Born, Las Ramblas, for him Boqueria market, because we know that these people can not leave Barcelona without at least have known what most important center of this city. Can you imagine going to your city like Paris and not seeing the Eiffel Tower?
The next question to ask should be: what environment we want to do the activity? In the center of Barcelona? In a hotel room ?, on a farm? In the Mount? What few Km. From Barcelona can walk away at most? These are all questions that will help us select the activity and space to carry out and live this experience of Team Building in Barcelona.
It is also necessary to understand within what activity program is included. Is the activity will be part of some kind of meeting? Is it a convention? Is an incentive trip? At that meeting, is there a motto or phrase or leitmotiv? The more we know the better we can choose meeting activity and space to carry out the same.
Another very important question is to know what we want to achieve with Team Building activity we want to do in Barcelona What is the objective the client organizing this activity Team Building in Barcelona? To motivate ?, create sensation and team spirit ?, entertain ?, form ?, foster personal relationships among participants? The objectives can be many. Each company is a world. Yes, we know, many times, they want to achieve all these goals, but if we can prioritize and define the three most sought after in order of importance, so much the better. The more we understand the objectives to achieve, the easier it will offer an activity that these objectives and better profitability get the customer approach to investment. It's time to start thinking, focus on this and have clearer ideas. What really we pursue objective when organizing a Team Building?.
Another question to ask is what kind of experience we looking for? A musical experience ?, artistic? ¿Of motorsport? ¿Dining? An event on the beach? The type of experience will strongly determined things that that group has done before. If last year they did some tests of skill in Quads, this year we can surprise them with some painting, theater, musical theater or something. If last year made some musical activity this year we can surprise them with a treasure hunt-like activity with different tests. And so on, it is surprising, to offer them something they do not expect. This is how many times we create that climate. At the end of the day, the key to success in an event is to generate positive emotional states. An event by definition is an event, that is, something that should highlight its importance, and we must use all the possibilities we have at our disposal, and of course also the technology to seek maximum visibility.
To that end we must work many variables such as creativity (be original, unique, etc.), all on the production (choose the best space for the event, the best restaurants, …), monitor the technical part is perfect (sound, audiovisual, lighting), take care of the design (in all corporate aspect, multimedia, web …) and so on. And the activities under this program are very important. Sometimes activities, both Team Building or are not what everyone will remember after an event.
Current trends are moving toward emotional marketing strategies that what they propose is that to make an impact on our guest must provide stimulating actions getting claiming special and unique moments and situations, trying to fix the difference of our brand in their feelings. The key is, therefore, to generate positive emotional states.
Another issue to consider is the degree of physical activity we want for the activity. Seen from the point of view of the degree of physical activity, it is not the same mount an orientation test the countryside where all compete walking (or running) for a circuit of two to eight kilometers to organize an event of painting where all together they paint a large painting or theater where they will walk only giving itself a stage. How much physical activity we looking for? They are young people and want something very active, or are elderly and want something less physical ?. Or maybe you want something other than anything physical and is type board games like strategy games ?. We have to ask ourselves this question we have to ask why we think so. And have answers.
And finally, another very important question that often nobody knows or nobody wants to answer, is the million dollar question what we budget for the activity ?. Many times people in charge of buying an event do not want to reveal what budget have because they think what they can find perhaps cheaper, and the provider, knowing the money they have, will offer something cheaper to more expensive price and will spend every last euro budget. Well gentlemen, we have to say that having that information is vital because it does not waste time or we will lose others, contemplating activities or spaces that are out of our budget. And so that you are calm, we have a list price of our events we can offer previously.
If before organizing an event of Team Building in Barcelona, ​​we get all these questions, do some preliminary work to get the maximum number of answers to these questions and we already have clear answers to all or most of them, we will be ready to talk with a specialist and advise us and, from there, choose the most appropriate activity for the group and make a great Team Building event in Barcelona.
Dreams & Adventures we specialize in helping you. We have the experience, knowledge and professionalism to hear what your needs and offer the best ideas. Here we have given some of these ideas, but the chances, in most cases, are endless.
You can get tested and practice answering all the questions we ask you at our events, using different filtering levels or find yourself from our extensive catalog of Team Building activities on our website or, if you prefer, call us, we will do all of these questions, tell us your needs and we will spend the best ideas with the corresponding budget.
How are you? Do we organize something memorable together? We love Barcelona, ​​we love organizing events. And we love the samples customer satisfaction to have completed them.